Why do I get the error message 537 during the update?

Under certain circumstances an update of Avira Antivirus can fail with an error message.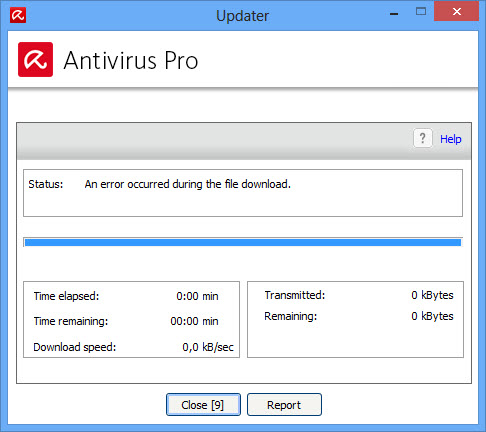 Click Report to verify if the type of error message is 537. If you find following error message at the end of the report, then a problem with the Internet connection occurred.
16:15:24 [UPD] [ERROR] Generation of update structure failed. UpdateLib delivers error 537.


Error message 537 may occur due to various issues. Go through the following solutions one by one to solve the problem.
I. Windows system settings could not be detected
Open the "Avira Control Center".
Go to Extras → Configuration.
Click PC Protection → Update → Proxy settings.
Click the option Do not use a proxy server if you do not use a proxy.
Click OK to apply the settings.
II. A security software with firewall is blocking the Avira update process update.exe
Check if you have another security software with a firewall installed on your computer. Open the Windows Start menu, to see the list of the installed software.
(Start → Settings → System → Apps & features)

If you can identify the security software with the firewall, you can generally see and modify the list of allowed and blocked applications in the firewall's settings. Make sure that none of Avira's program files are blocked, including sched.exe and update.exe
III. Do you use a proxy for the Internet access or a security software, which installed a local proxy?
Usually, most of the Internet surfers do not need to configure a proxy, to connect their computers to the Internet. If the computer is in a company network or if a security software installed a local proxy on it, to filter Internet data, then you also have to make these settings in the Avira software, to run Avira product updates.
Verify if there is a proxy set on your computer:
Go to Start → Settings → Network & Internet &rarr Proxy.
If the option Use a proxy server is active, write down the Address and Port.
Click Save to close the configuration window.
Open the "Avira Control Center".
Go to PC Protection → Update → Proxy settings.
Enable the option Use this proxy server and insert the Address and Port you wrote down. Leave the other fields empty.
Affected products
Avira Free Antivirus
Avira Antivirus Pro
Avira Internet Security Suite
Avira Family Protection Suite
Avira Ultimate Protection Suite